There is a large variety of 4-20mA sensors available on the market. This article provides tips for troubleshooting connection issues and illustrates how to connect some of the most common sensors to Tibbit #53.
Troubleshooting Tips:
If a sensor requires less than 4mA of power to operate, then no additional power supply is needed. However, if the power draw is greater than 4mA, it will interfere with readings; in this case, an additional power source is required.

Tibbit #53 does not share a common ground with the host Tibbo Project System (TPS). The output and input lines create an isolated circuit.
Connection Case No.1 - TE M325M-000005-250PG Pressure Transducer
This pressure sensor from TE is available in various packages and with different connectors. For the current output configuration, the connection is straightforward. There are two leads: the red is +supply, and the black is -supply.
The connection would look like this:
M325M-000005-250PG Documentation
Connection Case No. 2 - Comet T514x CO2 sensors
These Comet sensors come with an independent power supply and sensor circuits so that they can accept both galvanically isolated and non-isolated connections. With Tibbit #53, you'll want to use the galvanically isolated connection.
The connection would look like this: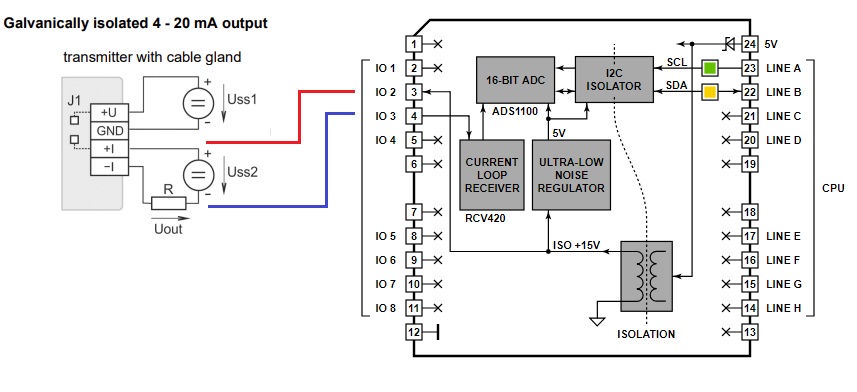 Connection Case No. 3 - Generic Hall Effect Current Transmitters
There are many Chinese-made Hall effect current sensors that share similar specifications. In this example, the sensor draws 25mA of current and does not have an independent power circuit. To prevent the excessive current draw from interfering with readings from the sensor, use an external power supply.
The connection would look like this: